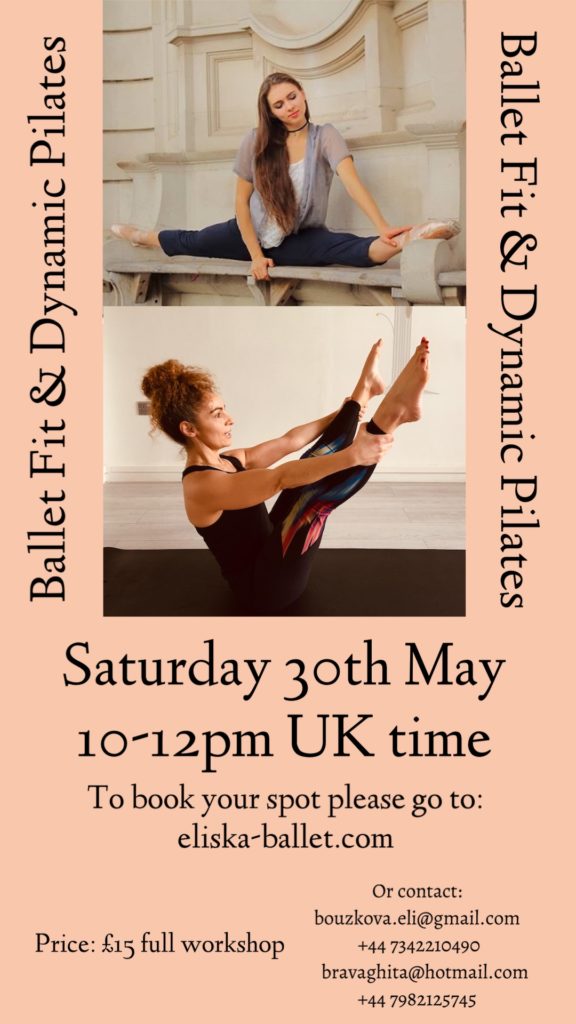 ABOUT BALLET FIT & DYNAMIC PILATES via Zoom:

The two hours long workshop is going to be a fun and balanced workout for anyone from beginners to professionals. Both classes will be focused on listening to your own body, and feeling the movements from the inside. You do not need any Ballet or Pilates experience. Both teachers will guide you through every single exercise. The first part of the class is going to be Ballet Fit with Eliska, the second part – Dynamic Pilates will be lead by Ghita Brava.
Ghita Brava
Energetic fully qualified Pilates Instructor, who teaches the method to individuals and groups through tailored exercises. Unique fun workouts that will promote flexibility, increase core stability, core strength as well as physical and mental balance.Influenced by my teachers, peers, environment and my travels, my aim is to bring a sense of empowerment to each of my class.As holistic health coach, I have experience in organising wellness retreat in beautiful and remote location, on a mission to spark transformation by inspiring people to integrate sustainable, healthy habits into their life.
About Ghita's Dynamic Pilates:
My session is a flowing and dynamic Pilates routine with emphasis on transitions. Movements are precise and controlled but more dynamic, designed to slim figures, improve posture, balance, and build toned muscles. Dynamic Pilates is appropriate for beginners and improvers with option offered for different fitness and skill level. Be prepared to make a classic workout more intense and effective and to find muscle you never knew existed!
Click here to find out more about Eliska's Ballet Fit
The price of the full workshop is £15.
Click here to pay and book your spot in advance.
Please write "SATURDAY WORKSHOP" in the description of your payment.
If you do not have PayPal you can send the payment here:
NatWest
EBouzkova
83420088
60-16-39